How Can Players Overcome The Yips?
Baseball is a relatively simple game that players can complicate at times…
Overthinking, over-analyzing and trying too hard can get in the way of doing certain skills that you have done since you were a little kid.
Think about the act of throwing a ball…
You probably started throwing objects when you were two years old.
In no time at all, you were able to throw to a target.
After a few years of playing baseball, you started hitting the target with relative consistency, even while throwing the ball with a bit of pace.
You probably have thrown a ball with accuracy tens of thousands of times… A pretty simple, straightforward skill.
So why, after so many years of throwing experience, do so many players develop throwing problems with no apparent reason?
Related Article: How Can You Free Up Your Throw?

Let's examine the not-so-uncommon story of 24 year-old pitcher Cody Buckel who developed the yips early in his career. Buckel is playing for the Double-A Mobile Bay Bears and trying to work his way back to the majors.
Buckel was selected by the Texas Rangers in the second round of the 2010 draft and was the Rangers' Minor League Pitcher of the Year in 2012. Through his first three seasons in the minors, he posted a 2.48 ERA, with 10.5 strikeouts and 2.7 walks per nine innings.
Buckel was on the fast track to the Texas Rangers rotation. But Buckel's MLB career was derailed when he developed the throwing yips.
In 2013, Buckel was invited to major league camp but suddenly couldn't throw a strike… And so were the beginnings of Buckel's four-year battle with the yips.
BUCKEL: "I tried to take it up to 120 percent. I didn't take what I did in 2012 and just do it again in spring training. I tried to do too much. I think that's the beginning of the mental spiral of having the negative thoughts. Unfortunately for me, I think a lot."
Buckel knew the origin of his yips was mental. Throwing a ball was replaced by thinking of throwing the ball, analyzing how he was throwing the ball and trying over controlling his action to throw a strike.
BUCKEL: "You are lying to yourself and thinking it's physical or mechanical. Everyone is scared of the word yips. They never want to say it. It really never is mechanical. You just don't move differently one day. It's a mental block. Your mind doesn't want to let you do it."
How do players get over the throwing yips?
The answer is simple but not easy to do. The simple answer is "just throw the ball." Throw the ball like you have just thrown the ball since you were young.
Unfortunately, when you start missing, you start looking for answers and focusing on mechanics, which only serves to prolong the yips.
You can beat the yips by letting go of outcomes or the result of your pitch, quieting your mind and just throwing the ball.
Try this tip to beat the yips:
You have to go back to throwing on instinct or like a kids again, what I call throwing freely.
However, this requires you to stop thinking about the negative outcome of missing a throw and what teammates and coach might think about your game.
In order to let go of the fear of embarrassment or what others might think, you have to stop making false assumptions or mind reading others.
This means you have to know you are a good ball player and person no matter what happens on the field…
Get all my tips for breaking the yips cycle with my new program for ball players.
---
Overcome Throwing Problems: How to Break The Yips Cycle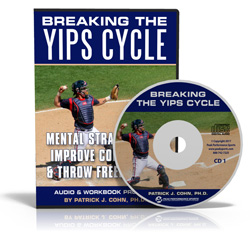 Do you (or a ball player) suffer from:
Inability to throw or pitch freely (despite the fact that you can in practice)?
Anxiety, tension and over control of their action?
Performance anxiety about what others will think?
Super low confidence with the yips-infected mechanics?
Feeling like an alien has taken over your body and you have no control?
If you can throw well when alone, but can't take it to games, this is a mental game issue and not a physical challenge!
The Yips Cycle is a vicious cycle that causes ball players to stay trapped in over thinking and over control…
Learn to throw or pitch freely again with my proven audio and workbook program:
Breaking The Yips Cycle: Mental Strategies to Improve Confidence & Throw Freely Again
"Breaking The Yips Cycle" is a complete brain dump of the TOP Eight mental training sessions I do with my personal coaching students to help them overcome the yips and play with freedom again.
The Audio and Workbook Program Includes:
Two CDs (CD purchase only). 120 minutes of mental training sessions to help you gain greater freedom, focus on the right performance cues, and simplify your prepitch routines.
MP3 Audio (Digital Download). 120 minutes of mental training sessions you can download to your computer right away while you wait for the CDs and workbook to arrive. (MP3 Audio value = $149).
An 8-Session Breaking The Yips Cycle Workbook to guide you through my mental game sessions and to overcome the throwing yips (Workbook value: $149.00).
Bonus Session: Practice drills to free up your throwing to help you improve consistency and stop focusing on mechanics when you play.
---
Download Our FREE Baseball Throwing Yips Report
Do you throw accurately in practice, but lose control in games?
Learn how to over come the throwing yips!
Download our FREE Throwing Yips Report and learn how to break the yips cycle and throw freely and confidently again!
8 Mental Game Strategies to Break The Yips Cycle
What are ball players and coaches saying?
"The mental game lessons really helped me focus on the process of my performance and not the outcome. I now realize the difference between confidence and trust, in that confidence comes before competition. Your coaching is really going to help me improve my mental game this fall."
~Trey Mancini, Collegiate Baseball Player
---
Beat The Throwing Yips With Expert Mental Game Coaching!
Master mental game coach Dr. Patrick Cohn can help you overcome your mental game issues with personal coaching.
You can work with Dr. Patrick Cohn himself in Orlando, Florida or via Skype, FaceTime, or telephone. Call us toll free at 888-742-7225 or contact us for more information about the different coaching programs we offer!
What are our mental coaching students saying?
"I've had the yips for 30 years. With the anchor ban, I thought I needed to quit golf. It was frustrating hearing golf experts and commentators state that no amateur was going to quit golf because of the anchoring ban. Obviously, these experts don't know anything about the yips. I'm so glad I found you. Your drills really helped. It might sound silly, but the biggest thing that helped me is knowing that the yips is mental. It might sound crazy, for someone to have the yips for 30 years, and not know it's mental. I also believe I know my reason for having the yips, and I see how my insecurities in every day life contributed to the yips. Thank you for your help."
~Kevin Stankewicz