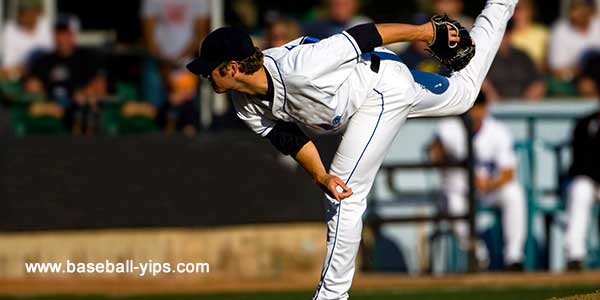 Using Your Mind to Beat the Yip
The YIPS! My baseball career is over now. Have you ever wondered if the yips are a career-ending phenomenon?
After all, once you have the yips, you always have the yips… right?
Mystery surrounds the yips for many ball players. Players with the yips are baffled by their cause and how to overcome the yips.
When you have the yips, you think about the players who had the yips and never bounced back. Players get so wrapped up in the yips that they unknowing perpetuate the yips cycle and compound the effects of the yips.
You look for evidence to confirm your belief. You start rattling off names of
MLB players whose careers were shortened when the yips took over their game.
Your negative view of the yips keeps you stuck in the yips cycle… fearful of a bad throw, anxious about throwing the ball, muscle tightness, overthinking or over-analyzing your throw, bad throw, blown confidence… fearful of a bad throw and the cycle continues.
When the yips are in the front of your mind, you feel trapped and hopeless as if there is no way to return to your previous level of play.
Truth be told, you can overcome that frustrating feeling. You can overcome the yips.
Conquering the yips requires that you attack the problem from a different angle. Instead of looking for players who never seemed to bounce back from the yips, look for the players that have beaten them and returned to their previous form or performed even better after their experience with the yips.
When you see the yips as temporary, you have taken the most important step in beating the yips.
One example of someone who has bounced back from the yips is Colorado Rockies pitcher Daniel Bard. Bard's example is a testament that the yips can be beaten with a positive mindset.
Bard had a successful return to baseball after being away from the major leagues for 7 years. Bard's hiatus was not because of his lack of ability but his false assumptions about the yips.
In 2013, Bard's last season with the Boston Red Sox organization, Bard faced 87 batters, threw 11 wild pitches, walked 29 batters, gave up 15 hits and 12 earned runs.
Bard described quite clearly his experience with the yips.
BARD: "Throwing a baseball is supposed to be an automatic action. For someone who's done it as much as I have, it should be as automatic as walking for anybody else. And it was, for a long time. And then all of a sudden, it wasn't. Imagine something as simple as walking becoming something where you had to literally think of the angle of your knee, the pressure you're putting into the ground — on every step. It would make walking very frustrating. It would turn into a grind. And that's exactly what throwing became to me."
Bard was able to successfully return to the game by reinterpreting his mental experience on the mound.
BARD: "[The yips] would raise anxiety and basically take away my ability to focus. The same physical things are going on. Heart rate's up, adrenaline's pumping but just your perspective on what's going on makes that feeling either a really positive thing where it helps you, or a really negative thing where it crushes you."
Not only has Bard returned to the MLB, he also won his first game for the Rockies throwing 20 of his 25 pitches for strikes in his relief appearance.
The yips CAN be overcome… And the yips CAN be overcome by YOU. Looking at the yips through a different lens can give you a better perspective and minimize the stress of throwing a ball accurately.
Tip for Overcoming the Yips
Worry about making a bad throw or pitch on the mound opens the flood gates to fear, future anxiety, and doubt. You have to start by focus on the process and a positive intention of the throw to alleviate anxiety.
Instead of seeing the ball miss in your mind and feel the embarrassment of missing your throw, think about the shot you want to make and see the proper trajectory.
Do not get ahead of the execution of the throw – the the trajectory you want and focus only on reacting to that image.
---
Breaking The Yips Cycle Audio
If you can throw well when alone, but can't take it to games, this is a mental game issue and not a physical challenge!
The Yips Cycle is a vicious cycle that causes ball players to stay trapped in over thinking and over control…
Learn to throw or pitch freely again with my proven audio and workbook program:
Breaking The Yips Cycle: Mental Strategies to Improve Confidence & Throw Freely Again
"Breaking The Yips Cycle" is a complete brain dump of the TOP Eight mental training sessions I do with my personal coaching students to help them overcome the yips and play with freedom again.
The Audio and Workbook Program Includes:
Two CDs (CD purchase only). 120 minutes of mental training sessions to help you gain greater freedom, focus on the right performance cues, and simplify your prepitch routines.
MP3 Audio (Digital Download). 120 minutes of mental training sessions you can download to your computer right away while you wait for the CDs and workbook to arrive. (MP3 Audio value = $149).
An 8-Session Breaking The Yips Cycle Workbook to guide you through my mental game sessions and to overcome the throwing yips (Workbook value: $149.00).
Bonus Session: Practice drills to free up your throwing to help you improve consistency and stop focusing on mechanics when you play.
Learn more about Breaking The Yips Cycle…
---
Get Expert Mental Game Coaching for Yips!
Master mental game coach Dr. Patrick Cohn can help you overcome your mental game issues with personal coaching.
You can work with Dr. Patrick Cohn himself in Orlando, Florida or via Skype, FaceTime, or telephone. Call us toll free at 888-742-7225 or contact us for more information about the different coaching programs we offer!
What are our mental coaching students saying?
"I Felt I Was Throwing Completely Free"*
"Today was a really good day. I felt I was throwing completely free, had maybe one or two tense throws and after coach told me it looked very good."*
~Chris Fetters

"Your Response To The Throwing Problem Covers Many Situations In Life"*
"Your response to the throwing problem in front of the coach covers so many situations in life…that is the beauty of playing sports…the life learning experiences. Keep up the good work…you are the best coach."*
~Bill Brennan
---
Disclaimer
*Testimonials found on this site are examples of what we have done for other clients, and what some of our clients have said about us. However, we cannot guarantee the results in any case. Your results may vary and every situation is different. No compensation was provided for these testimonials.