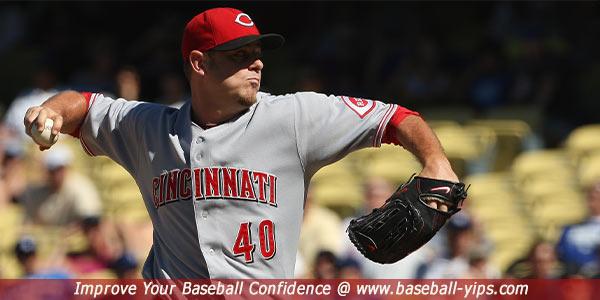 The Throwing Yips Are in Your Mind
Don't say the dirty 4 letter word… That is how most ballplayers feel about saying the word, "Yips."
When ballplayers mention the word "yips," this sets in motion the very thing ballplayers see as their biggest challenge.
How can such a routine throw, a throw you have made thousands of times become such a labored act?
The physical act of throwing the ball is not the problem. The yips are a mental block that interferes with the smooth, fluid motion of accurately throwing the ball.
Yet, most ballplayers who have the yips talk about the difficulty of throwing the ball: "I'm trying to control my throw," "My release is too late," "My mechanics are off" or "My throw feels forced and stiff."
When you attempt to resolve the yips through physical means, you miss the point and ignore the underlying mental block that causes the yips.
When you are in the yips rut, you become preoccupied by your errant throws. You think about the problem on and off the field. The yips eat at you all day. The more you think about the yips, the more the yips take hold of your mind. You may even take less pre-game infield practice because you are just trying to block the yips from your mind.
Unfortunately, keeping the problem "in the closet" puts more pressure on you in games, making matters worse. In games, you feel anxious, you don't want the ball hit in your direction. The thought of having to make an accurate throw is overwhelming.
The yips have been a problem for Houston Astros second baseman Jose Altuve during the 2020 playoff series against the Tampa Bay Rays. Even though Altuve is a six-time All-Star, Gold Glove winner and 2017 AL MVP, he made several critical errors in the ALCS that led to several runs for Tampa Bay.
Altuve committed a combined three throwing errors in Games 2 and 3, contributing to eight Tampa Bay runs. After making no errors during the 2020 regular season, Altuve had four errors in the post-season and the frustration was obvious.
ALTUVE: "It's not easy. It's not easy to do things against your team. You're always trying to help your team. For me, to just not contribute, to not play good and help my team to win, it feels bad."
Houston manager Dusty Baker talked about the potential of Altuve having the yips and the mental impact of the yips.
BAKER: "I don't know what it's called — you can go into a defensive slump the same way you go into an offensive slump, and the physical turns mental… You just hope he isn't getting the yips, because invariably they come in bunches. I just told [Altuve] to flush it. I mean, this guy's been awesome for us, and you gotta flush it and move on, or else it multiplies."
Taking extra fielding practice, working on your mechanics or pretending it doesn't exist does nothing to remove the mental block of the yips.
When you lose confidence in your ability to make accurate throws and your focus is on trying not to make errors, the yips take a stronghold in your mind.
Overcoming the Throwing Yips:
One or two bad throws does not indicate you have the yips. When you find yourself ruminating about the throws, overthinking your throws or over-analyzing your mechanics, you should try to keep it simple and go back to what worked
What is the underlying mental cause? Worrying about embarrassment or letting down you team.
What are the triggers that lead to your throwing errors? Do you feel like you are going to make a bad throw before you make the attempt?
What mental skills or actions can you take to regain your confidence and focus on the field? You have to learn to throw freely again and not overthink a simple action–or what used to be a simple action.
Taking a mental approach to your game will not only help you on the field, but you'll also improve all aspects of your game throughout the season. Contact us if you need help with the throwing yips.
---
Breaking The Yips Cycle Audio
If you can throw well when alone, but can't take it to games, this is a mental game issue and not a physical challenge!
The Yips Cycle is a vicious cycle that causes ball players to stay trapped in overthinking and over control…
Learn to throw or pitch freely again with my proven audio and workbook program:
Breaking The Yips Cycle: Mental Strategies to Improve Confidence & Throw Freely Again
"Breaking The Yips Cycle" is a complete brain dump of the TOP Eight mental training sessions I do with my personal coaching students to help them overcome the yips and play with freedom again.
The Audio and Workbook Program Includes:
Two CDs (CD purchase only). 120 minutes of mental training sessions to help you gain greater freedom, focus on the right performance cues, and simplify your prepitch routines.
MP3 Audio (Digital Download). 120 minutes of mental training sessions you can download to your computer right away while you wait for the CDs and workbook to arrive. (MP3 Audio value = $149).
An 8-Session Breaking The Yips Cycle Workbook to guide you through my mental game sessions and to overcome the throwing yips (Workbook value: $149.00).
Bonus Session: Practice drills to free up your throwing to help you improve consistency and stop focusing on mechanics when you play.
Learn more about Breaking The Yips Cycle…
---
Get Expert Mental Game Coaching for Yips!
Master mental game coach Dr. Patrick Cohn can help you overcome your mental game issues with personal coaching.
You can work with Dr. Patrick Cohn himself in Orlando, Florida or via Skype, FaceTime, or telephone. Call us toll free at 888-742-7225 or contact us for more information about the different coaching programs we offer!
What are our mental coaching students saying?
"I Felt I Was Throwing Completely Free"*
"Today was a really good day. I felt I was throwing completely free, had maybe one or two tense throws and after coach told me it looked very good."*
~Chris Fetters

"Your Response To The Throwing Problem Covers Many Situations In Life"*
"Your response to the throwing problem in front of the coach covers so many situations in life…that is the beauty of playing sports…the life learning experiences. Keep up the good work…you are the best coach."*
~Bill Brennan
---
Disclaimer
*Testimonials found on this site are examples of what we have done for other clients, and what some of our clients have said about us. However, we cannot guarantee the results in any case. Your results may vary and every situation is different. No compensation was provided for these testimonials.