Discover How To Break The Yips Cycle
And Throw or Pitch Freely Again
New Proven Audio and Workbook Program Helps Ball Players Overcome Throwing Yips
If you can throw well when alone, but can't take it to games, this is a mental game issue and not a physical challenge. Now, the yips might feel like it's physical when you freeze, flinch, or over control your release. However, if you can throw freely in practice, but tense up in game situations, then it's mental and not physical!
After working with athletes for over 10 years on the yips, I developed a model for the throwing yips… My model explains why ball players get stuck in a nasty cycle that's hard to break out of when they have the the yips. Here's the model: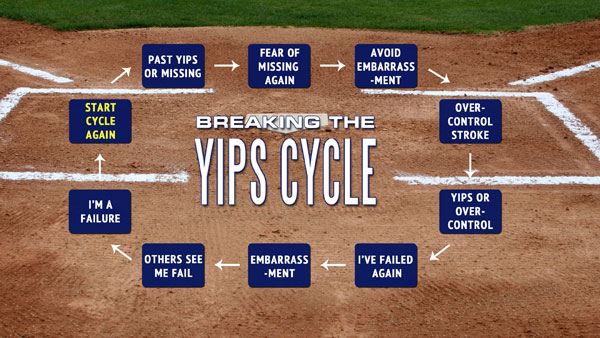 The Yips Cycle is a vicious cycle that causes ball players to stay trapped in over thinking and over control…
From fear of missing a throw to over control to feeling embarrassed, everyone I share this with agrees with my philosophy about the yips:
The cycle comes and goes for some of you where you can lose the yips, but it returns mysteriously;
The cycle is all about anxiety and fear of missing and the aftermath of missing;
The cycle includes massive frustration that spills over into a ball player's game and life;
The cycle makes it hard to regain any confidence in your throwing or pitching.
The yips can take all the fun out of your ball game. It can ruin the hard work you put into it. If you've had throwing problems for years, all this suffering is really unnecessary.
Having helped my athletes overcome the yips, you too can discover how to free up your arm and gain confidence again!
Learn to Throw or Pitch Freely Again With My Proven Audio and Workbook Program
Digital Download: No Shipping!
Download for Immediate Access
$249 Digital Download
Digital Download: No Shipping!
We Ship Program To You
$299 CDs & Workbook
"Breaking The Yips Cycle:
Mental Strategies to Improve Confidence and Throw Freely Again"
I share with you everything I know about how to get over the yips… Including how to enjoy playing the game again by changing the reasons you play!
What's Included In "Breaking The Yips Cycle" Program?
"Breaking The Yips Cycle" is a complete brain dump of the TOP Eight mental training sessions I do with my personal coaching students to help them overcome the yips and play with freedom again.
The Audio and Workbook Program Includes:
Two CDs (CD purchase only). 120 minutes of mental training sessions to help you gain greater freedom, focus on the right performance cues, and simplify your prepitch routines.
MP3 Audio (Digital Download). 120 minutes of mental training sessions you can download to your computer right away while you wait for the CDs and workbook to arrive. (MP3 Audio value = $149).
An 8-Session Breaking The Yips Cycle Workbook to guide you through my mental game sessions and to overcome the throwing yips (Workbook value: $149.00).
Bonus Session: Practice drills to free up your throwing to help you improve consistency and stop focusing on mechanics when you play.
8 Sessions on CD or Audio Download:
Session 1: Managing Strict Expectations That Get in The Way
Session 2: How to Focus on the Process
Session 3: Learn to Throw Freely And Play Intuitively
Session 4: Regaining Confidence in Your Game
Session 5: Playing The Game For The Right Reasons
Session 6: Overcoming Social Approval Fears
Session 7: Uncoupling Your Self-Esteem And Performance
Session 8: Simplify Your Throwing or Pitching Routine
OVER $150 IN BONUSES JUST FOR TRYING MY PROGRAM!
You'll Immediately download over $150 worth of FREE bonuses after you complete your order. You get all of these bonuses for just trying our new program! Keep the bonuses even if you choose to return the program for a full refund (within 30 days of your purchase).
Special Bonus 1 – Interview with Ken Ravizza (42 minutes) (MP3 Audio And Transcript)
Dr. Ken Ravizza, former professor of Applied Sport Psychology at the California State University at Fullerton, discusses with Dr. Cohn his approach to mental training. We talk about what's needed to find that passion for what you are doing as an athlete (a $25 value).
Special Bonus 2 – Interview with Tom Hanson (46 minutes) (MP3 Audio And Transcript)
Dr. Tom Hanson, the author of "Heads-Up Baseball: Playing the Game One Pitch at a Time" and former full-time Performance Enhancement director for the New York Yankees, discusses his approach to mental training. Dr. Hanson speaks about his "tapping" technique and its uses (a $25 value).
Special Bonus 3 – Sharpen Your Focus (E-book)
When learning mental game strategies, you first have to understand the concepts such as how to focus, what you need to focus on, and how to refocus when distracted. Print this e-book to help you learn how to improve concentration using these practice drills (a $30 value).
Special Bonus 4 – The Confidence-Expectations Connection (E-book)
As your players practice more and achieve greater success, expectations can also elevate to the point of harming their confidence. If they don't reach their own expectations, confidence can take a blow especially when they begin to have self-doubt. Print this e-book to help your players understand the relationship between confidence and expectations (a $30 value).
Special Bonus 5 – Pregame Warm-Up Routine (PDF)
Athletes must apply what they learn in the program to be successful. A pregame routine is the perfect way to apply what you learn. This cheat-sheet guide summarizes the top mental preparation strategies and tells you exactly how to mentally prepare for game. You can modify the guide to fit your athletic needs (a $30 value).
Special Bonus 6 – Pregame Tips For Parents And Coaches (PDF)
What should you, as a parent or coach, say and do just before competition to help athletes get into a confident mindset? Learn how you can reinforce our mental strategies so you're part of the solution and not part of the problem! Help your ball player play with confidence (a $20 value).
Special Bonus 7 – Practice Drills to Free Up Your Arm (Bonus Chapter)
How should you practice to free up your arm? Use my practice drills to throw intuitively and stop over thinking your arm action (a $20 value).
Purchase Your Program Today!
Digital Download: No Shipping!
Download for Immediate Access
$249 Digital Download
Digital Download: No Shipping!
We Ship Program To You
$299 CDs & Workbook
Two Easy Methods to Order
The easiest and most efficient way is to place your order online today.
Call us toll free 888-742-7225 and place your order with a valid credit card. Have your email, address, phone number, and credit card handy.
Thank you for taking the time to read about "Breaking The Yips Cycle" – my best option (other than personal coaching) to help you throw freely again and regain your confidence. Please contact me if you have any questions about my new program!