How Can You Overcome Throwing Problems?
If you miss routine throws or make wild pitches during games, you'll should read article closely…
I outline my philosophy about the throwing yips below. I call it the yips cycle.
To overcome throwing problems, you have to attack the yips cycle at every step.
You may recall my version of the yips cycle–see image below…
The Yips Cycle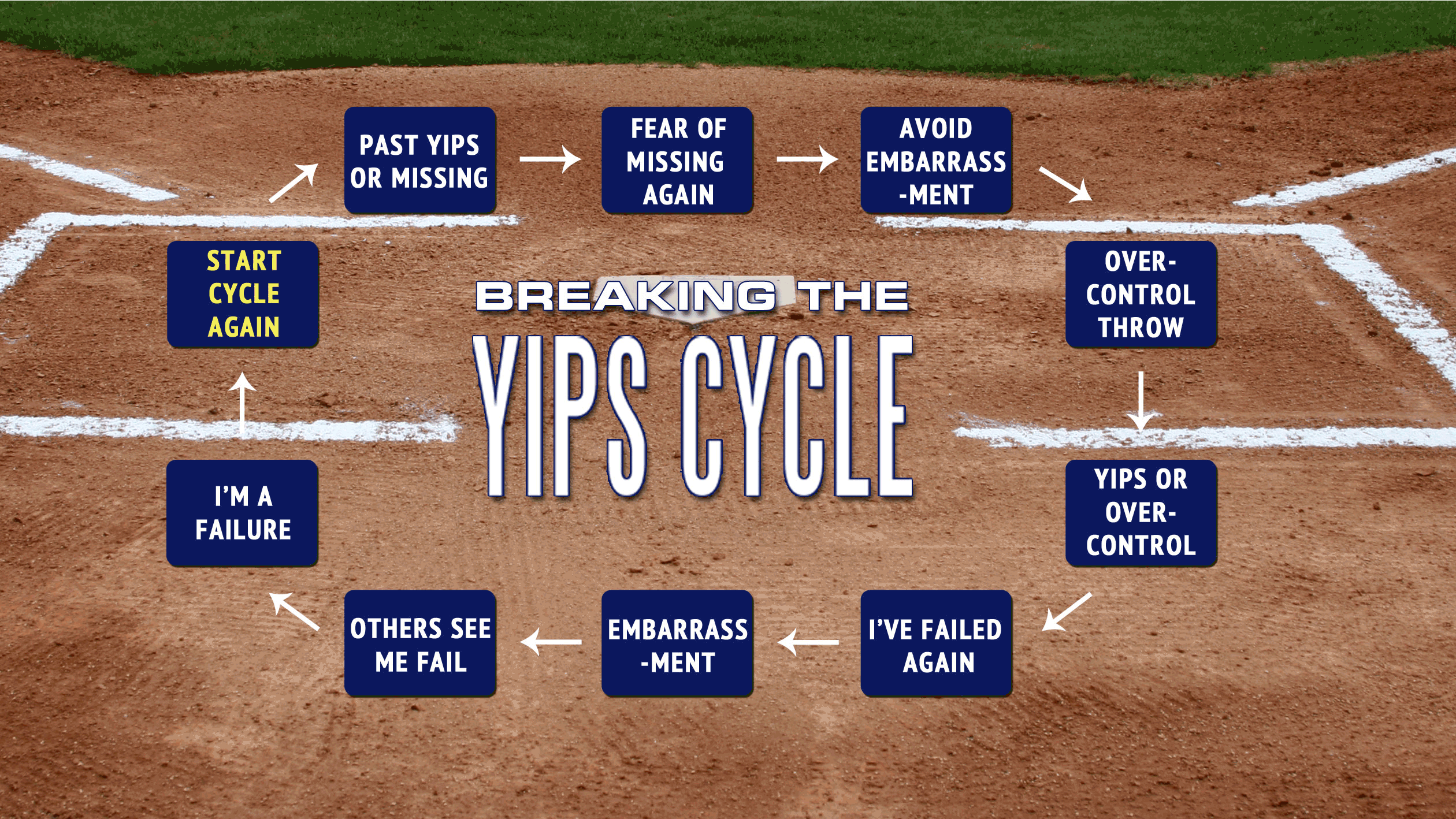 You have to attack the yips at every stage of the yips cycle.
The two most important things you must do to overcome the throwing problems include:
Free up your throw in practice, warm up, and in games.
Get beyond the fear of failure or embarrassment.
Confidence will only return to your game when you can free up your throwing and learn to throw freely under pressure.
Related Article: How Do The Yips Start in Baseball?
However, in order to throw freely you have have to overcome your specific fear about missing routine throws or making wild pitches.
But a great place to start is with my Baseball Yips Report, which helps you the yips cycle.
You might already have it, but if you missed my report, you can download it here:
The next think you have to do is uncover the specific fear that you have about making a bad throw. And often the fear is not about missing per se, but what comes with missing–what I call the "aftermath of missing."
For example, do you worry about what teammates or coaches will think if you continue to make bad throws?
Do you question if you should continue to play baseball or softball if you can't perform up to your potential?
If you can do these two important steps, you are much closer to throwing freely!
---
Overcome Throwing Yips: How to Break The Yips Cycle
Do you (or a ball player) suffer from:
Inability to throw or pitch freely (despite the fact that you can in practice)?
Anxiety, tension and over control of their action?
Performance anxiety about what others will think?
Super low confidence with the yips-infected mechanics?
Feeling like an alien has taken over your body and you have no control?
If you can throw well when alone, but can't take it to games, this is a mental game issue and not a physical challenge!
The Yips Cycle is a vicious cycle that causes ball players to stay trapped in over thinking and over control…
Learn to throw or pitch freely again with my proven audio and workbook program:
Breaking The Yips Cycle: Mental Strategies to Improve Confidence & Throw Freely Again
"Breaking The Yips Cycle" is a complete brain dump of the TOP Eight mental training sessions I do with my personal coaching students to help them overcome the yips and play with freedom again.
The Audio and Workbook Program Includes:
Two CDs (CD purchase only). 120 minutes of mental training sessions to help you gain greater freedom, focus on the right performance cues, and simplify your prepitch routines.
MP3 Audio (Digital Download). 120 minutes of mental training sessions you can download to your computer right away while you wait for the CDs and workbook to arrive. (MP3 Audio value = $149).
An 8-Session Breaking The Yips Cycle Workbook to guide you through my mental game sessions and to overcome the throwing yips (Workbook value: $149.00).
Bonus Session: Practice drills to free up your throwing to help you improve consistency and stop focusing on mechanics when you play.
Learn more about Breaking The Yips Cycle…
---
Download Our FREE Baseball Throwing Yips Report
Do you throw accurately in practice, but lose control in games?
Learn how to over come the throwing yips!
Download our FREE Throwing Yips Report and learn how to break the yips cycle and throw freely and confidently again!
8 Mental Game Strategies to Break The Yips Cycle
What are ball players and coaches saying?
"The mental aspects definitely separate the great performers from the unsuccessful ones. Dr. Cohn's programs can help athletes improve the mental aspect and take performances to a higher and more consistent level."
~Rick Hall, Baseball Coach, Daytona Beach C.C.
---
Beat The Throwing Yips With Expert Mental Game Coaching!
Master mental game coach Dr. Patrick Cohn can help you overcome your mental game issues with personal coaching.
You can work with Dr. Patrick Cohn himself in Orlando, Florida or via Skype, FaceTime, or telephone. Call us toll free at 888-742-7225 or contact us for more information about the different coaching programs we offer!
What are our mental coaching students saying?
"I write you because it's been 6 months since I started the program Breaking the Yips Cycle. Before that I was putting with a long putt and due to the ban on anchoring I switched to a short putt and started your program. The yips program has helped me a lot. I have been able to focus on what matters instead of thinking about the outcome or fearing a yippy stroke."
~Ricardo Abogabir C.