Letting go of Inaccurate Throws
The throwing yips are a bizarre phenomenon for any baseball player.
Most baseball players refuse to utter the word "yips," let alone admit or talk about having the yips. It is as if mentioning the yips forever cements it into your body and mind.
The truth is, if you gain a little understanding about the yips, you can de-mystify and overcome the yips.
Let's explore how the yips appear…
How can a couple of wild pitches or errant throws develop into longer-term inaccuracy?
Infielder Jose G. had two throwing errors in one game.
That is not unheard of in baseball but the one error came in the bottom of the ninth allowing the winning run to score.
After the game, Jose felt embarrassed about his performance, feeling he lost the game for his team.
The very next game, every grounder hit to Jose incited fear of another error.
Jose gripped the ball a little tighter, aimed the ball trying for the perfect throw and double clutched several of his throws.
Fortunately, Jose still got the throw to first base although the first baseman had to dig some throws out of the dirt.
As the game progressed, Jose kept talking himself through his throws and his throws were getting a little more off target until finally he overthrew the first baseman on a routine play.
That runner eventually scored and things slowly snowballed from there…
Overthinking led to tense muscles and a change in Jose's throwing motion because he was trying to control the release. This led to more errant throws until Jose lost all confidence in throwing the ball.
Jose's over thinking the outcome and his throw impeded his physical ability to perform on auto-pilot like thousands of times in his career.
Just like any challenge with the mental game, admitting it and talking about it is the first step to improving.
If you understand what is at play when experiencing the yips, such as how your thoughts, focus and emotions keep you stuck in the yips cycle, you can break the cycle and play to your potential on the field.
Los Angeles Dodgers pitcher Brandon McCarthy had a case of the yips in 2016 after returning from elbow surgery. McCarthy's control seemed to have vanished including one game where he threw five wild pitches in one inning.
McCarthy averaged 1.5 walks per nine innings prior to his injury until the yips took hold. In a three-game stint, McCarthy issued 15 walks over just 8 1/3 innings in August.
McCarthy was left off the playoff roster, but rather than wallow in disappointment and further give credence to the yips, he used that opportunity to become a better pitcher.
McCARTY: "The thoughts are there. It's whether or not you allow them to take root, take hold. So I tried my best not to let that happen. It was simply, this is something I can work toward and get over, and I just kept it as simple as I could in regard to that. Let's just keep throwing and see where I get to."
This season, McCarthy seems to have overcome the yips to become the Dodgers second most effective starting pitcher on the roster and is throwing the ball with greater confidence and command.
In a four-game span, McCarthy is 3-0 with a 2.25 ERA in four starts with greater command than the previous year.
McCARTHY: "I've been able to work on being not just a healthy big league pitcher but a good big league pitcher. I've had time to put in the physical reps and the mental reps and actually work on things."
If you can understand your personal triggers for the yips, rather than ignoring the problem, you will be on your way to becoming a better baseball player.
Tips For Beating The Yips:
Instead of ignoring the problem, recognize what contributes to the yips, such as fear of embarrassment or outcome thinking.
After you understand your personal triggers that contribute to the problem, you can learn to use mental strategies to overcome these triggers.
Lastly, understand that any problem with the mental game is only temporary if you are willing to take action to improve yourself.
Check out my new program to help ball players to understand and overcome the yips…
---
Overcome Throwing Problems: How to Break The Yips Cycle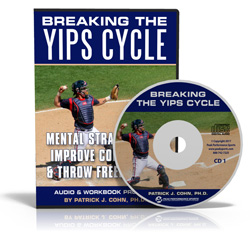 Do you (or a ball player) suffer from:
Inability to throw or pitch freely (despite the fact that you can in practice)?
Anxiety, tension and over control of their action?
Performance anxiety about what others will think?
Super low confidence with the yips-infected mechanics?
Feeling like an alien has taken over your body and you have no control?
If you can throw well when alone, but can't take it to games, this is a mental game issue and not a physical challenge!
The Yips Cycle is a vicious cycle that causes ball players to stay trapped in over thinking and over control…
Learn to throw or pitch freely again with my proven audio and workbook program:
Breaking The Yips Cycle: Mental Strategies to Improve Confidence & Throw Freely Again
"Breaking The Yips Cycle" is a complete brain dump of the TOP Eight mental training sessions I do with my personal coaching students to help them overcome the yips and play with freedom again.
The Audio and Workbook Program Includes:
Two CDs (CD purchase only). 120 minutes of mental training sessions to help you gain greater freedom, focus on the right performance cues, and simplify your prepitch routines.
MP3 Audio (Digital Download). 120 minutes of mental training sessions you can download to your computer right away while you wait for the CDs and workbook to arrive. (MP3 Audio value = $149).
An 8-Session Breaking The Yips Cycle Workbook to guide you through my mental game sessions and to overcome the throwing yips (Workbook value: $149.00).
Bonus Session: Practice drills to free up your throwing to help you improve consistency and stop focusing on mechanics when you play.