Focusing on The Target to Overcome The Yips
Throwing the ball to a teammate is the easiest task in baseball… OR IS IT?
Ask a player who has the yips how easy it is to throw the ball accurately and they will tell you an entirely different answer.
The difficulty in getting rid of the yips lies in finding the right solution and there within lies the biggest issue.
Instead of dealing with the mental part of the yips, players try changing their grip or release, use a safe throw, taking extra fielding practice, or reworking their throwing mechanics.
When a third baseman suddenly has difficulty finding the first baseman's mitt, it most likely is not due to a problem with mechanics.
Even though an infielder going through a bout of the yips may double clutch, change their arm angle or alter their release point, the root cause is more mental than physical.
In other words, doubt, fear or anxiety become so intrusive that the physical act of throwing a ball becomes a very difficult task.
As errant throws become more frequent, the issue becomes pervasive and seemingly insurmountable in the player's mind.
You wouldn't try to fix shoulder tendonitis by having knee surgery. Likewise, you wouldn't try to solve your pitching woes by taking extra batting practice…
But, for some reason, most players try to fix mental aspects of their game by looking for a physical solution.
Chicago Cubs pitcher Jon Lester has struggled for years with the yips…
Lester has pitched long stretches without ever holding a runner on first for fear of throwing the ball wildly past the first baseman.
Lester has even tried throwing his glove with the ball in his glove to first base trying to throw out a runner.
This preseason, Lester has continued to search for a physical solution to a problem that has deep mental roots.
While Lester was on the mound in an exhibition game against the Arizona Diamondbacks, he knocked down a grounder up the middle, fielded it and, instead of making a routine throw to first or throwing the ball underhanded, he attempted bouncing the ball to first base to throw out the runner.
The result for Lester was another wild throw between the first baseman's legs, allowing the runner to advance to second.
LESTER: "Obviously, from the outside looking in, it's kind of like, 'Why can't you do that?' Like I've said many times before, if I knew why, the things wouldn't be an issue."
The "why" of the yips, the real reason a player becomes stuck in the yips cycle, is due to the sole focus on physical solutions, which only leads to over thinking and over control!
A more effective approach to the yips is to examine the mental contribution to the problem. You have to learn to focus on the right cues, refrain from overthinking and over-analyzing each throw, and trust your ability to make accurate throws.
Not only can working on your mental game help you overcome the yips, it can take your game from good to great!
Try This Tip to Beat the Yips:
Have a positive intention with the throw–focus on the target. You can't execute a good throw thinking about not spiking it!
Players get in trouble when they see all the possible places an errant throw can land and how it might cost a base or a run.
Simplify your throwing. You body is well-trained to make a good throw, so get out of your own way…
It's a matter of see the target, hit the target. In practice, you can reinforce this strategy by repeating the phrase, "See the target, hit the target," as you make each throw.
Get started today with mental strategies to help you break the yips cycle:
---
Overcome Throwing Problems: How to Break The Yips Cycle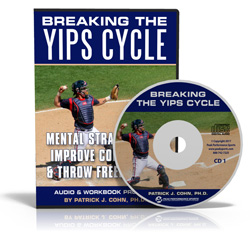 Do you (or a ball player) suffer from:
Anxiety, tension and over control of their action?
Performance anxiety about what others will think?
Super low confidence with the yips-infected mechanics?
Feeling like an alien has taken over your body and you have no control?
Inability to throw or pitch freely (despite the fact that you can in practice)?
If you can throw well when alone, but can't take it to games, this is a mental game issue and not a physical challenge!
The Yips Cycle is a vicious cycle that causes ball players to stay trapped in over thinking and over control…
Learn to throw or pitch freely again with my proven audio and workbook program:
Breaking The Yips Cycle: Mental Strategies to Improve Confidence & Throw Freely Again
"Breaking The Yips Cycle" is a complete brain dump of the TOP Eight mental training sessions I do with my personal coaching students to help them overcome the yips and play with freedom again.
The Audio and Workbook Program Includes:
Two CDs (CD purchase only). 120 minutes of mental training sessions to help you gain greater freedom, focus on the right performance cues, and simplify your prepitch routines.
MP3 Audio (Digital Download). 120 minutes of mental training sessions you can download to your computer right away while you wait for the CDs and workbook to arrive. (MP3 Audio value = $149).
An 8-Session Breaking The Yips Cycle Workbook to guide you through my mental game sessions and to overcome the throwing yips (Workbook value: $149.00).
Bonus Session: Practice drills to free up your throwing to help you improve consistency and stop focusing on mechanics when you play.
Learn more about Breaking The Yips Cycle…
---
Beat The Throwing Yips With Expert Mental Game Coaching!
Master mental game coach Dr. Patrick Cohn can help you overcome your mental game issues with personal coaching.
You can work with Dr. Patrick Cohn himself in Orlando, Florida or via Skype, FaceTime, or telephone. Call us toll free at 888-742-7225 or contact us for more information about the different coaching programs we offer!
What are our mental coaching students saying?
"After completing 'The Confident Athlete' series, I noticed a dramatic improvement in my level of play or should I say consistency. I play NCAA Division I baseball for Lamar University, and even my coaches have noticed a change in the way that I approach the game – my attitude and confidence at the plate. It has also helped me reach a new level of focus. I am able to get into that zone where I am able to narrow my focus on to the task. Thank you for helping in my continuing goal to mental toughness."
~Tylor Prudhomm
"Thank you so much for talking with our team. You are a great influence. The confidence material really helped me, and I will be working on that as long as I play and after. I can now step out there and just relax and play."
~Melissa Riesberg, Clarke College Softball
"Dr. Cohn has put together a program that has enabled myself and our players to approach the mental game in a systematic way that is easy to use and apply. Our awareness level has greatly increased."
~Marty Hunter, Head Baseball Coach, George Fox University
"After completing your program… he was more aware of the things that made him tight. He learned to control his breathing and control his emotions."
~Mark's Father