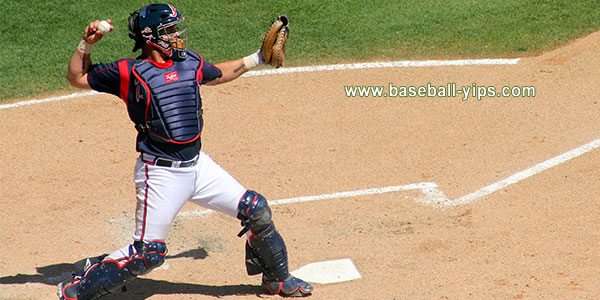 How to Overcome the Yips
Josh recently wrote to me about his struggles in the bullpen when catching…
"I have recently struggled in, not only the bullpen, but throws to bases in practice as well as simply playing catch. Yesterday, my only struggle was in the bullpen, no problem during warm up. Do you have any advice as how to improve when I am in the bullpen? I am hoping to at least be able to throw the ball back normally with relative accuracy."
This is a super common issue for ball players…
But why would catching in the bullpen, not even a game, cause problems for Josh? It's just warm up, right?
Having trouble throwing in the bullpen, in warm up, and around the bases is all rooted in fear of embarrassment or what others might think.
One bad throw leads to worry about making more bad throws and what teammates and coaches will think or how they might react.
This leads ball players to go to what I call a "safe throw," which you might think of as a soft lob.
With the lob throw, you have less of a chance to look silly because less chance of embarrassment.
But in many cases the lob starts to become inconsistent due to over control and thinking too much about a bad outcome.
Sound familiar? "Right on Dr. Cohn, but what's the solution?" you ask.
The main goal when you have the yips is getting back to throwing freely, intuitively, and using your "normal" throw with pace. You don't want to reinforce the safe throw or lob.
This keeps you stuck in the mindset that you can't use your normal throw and it's feels safer to use the lob.
How to Throw More Freely:
First, you have to focus on hitting your target and not avoid a negative result, such as spiking the ball. Keep the images in your mind positive.
Second, let go of the worry about what others will think if you make a bad throw–that's too much pressure–and often irrational.
Remember that your fear of a bad throw–and what that means to you–drives the over thinking and over control.
Stop focusing on the mechanics of throwing or over controlling your release or arm slot, for example.
And if you want more help with overcoming the lob throw, contact me about one-on-one mental coaching for the yips.
---
Breaking The Yips Cycle Audio
If you can throw well when alone, but can't take it to games, this is a mental game issue and not a physical challenge!
The Yips Cycle is a vicious cycle that causes ball players to stay trapped in over thinking and over control…
Learn to throw or pitch freely again with my proven audio and workbook program:
Breaking The Yips Cycle: Mental Strategies to Improve Confidence & Throw Freely Again
"Breaking The Yips Cycle" is a complete brain dump of the TOP Eight mental training sessions I do with my personal coaching students to help them overcome the yips and play with freedom again.
The Audio and Workbook Program Includes:
Two CDs (CD purchase only). 120 minutes of mental training sessions to help you gain greater freedom, focus on the right performance cues, and simplify your prepitch routines.
MP3 Audio (Digital Download). 120 minutes of mental training sessions you can download to your computer right away while you wait for the CDs and workbook to arrive. (MP3 Audio value = $149).
An 8-Session Breaking The Yips Cycle Workbook to guide you through my mental game sessions and to overcome the throwing yips (Workbook value: $149.00).
Bonus Session: Practice drills to free up your throwing to help you improve consistency and stop focusing on mechanics when you play.
Learn more about Breaking The Yips Cycle…
---
Get Expert Mental Game Coaching for Yips!
Master mental game coach Dr. Patrick Cohn can help you overcome your mental game issues with personal coaching.
You can work with Dr. Patrick Cohn himself in Orlando, Florida or via Skype, FaceTime, or telephone. Call us toll free at 888-742-7225 or contact us for more information about the different coaching programs we offer!
What are our mental coaching students saying?
"I Felt I Was Throwing Completely Free"*
"Today was a really good day. I felt I was throwing completely free, had maybe one or two tense throws and after coach told me it looked very good."*
~Chris Fetters

"Your Response To The Throwing Problem Covers Many Situations In Life"*
"Your response to the throwing problem in front of the coach covers so many situations in life…that is the beauty of playing sports…the life learning experiences. Keep up the good work…you are the best coach."*
~Bill Brennan
---
Disclaimer
*Testimonials found on this site are examples of what we have done for other clients, and what some of our clients have said about us. However, we cannot guarantee the results in any case. Your results may vary and every situation is different. No compensation was provided for these testimonials.