Focusing on Bigger Targets For More Accurate Throws
Jay wrote the following about his throwing problems in baseball:
"I've been dealing with the yips for about a year now and I'm at a point where I'm out of answers. I can go three days in a row without feeling any 'yippy' throws and then go a month where I feel I have to control every movement."
"I feel discouraged and don't know what to do. I'm knocking on the door to the big leagues and am discourage that this might ruin it all."
The good news is that you have made it to professional ball. And you should continue to follow your dream of playing in the big leagues.
More good news… If you can go three days in a row without any yips or feeling tense with your throwing, that's a great sign.
Many players wait years to get help with the yips. After years of searching for answers and quick fixes, they make matters worse.
You have proved to yourself that the yips are not a disease because it comes and goes.
Usually, players tell me it gets worse when they:
Make a couple of bad throws in warm up, during practice, or in games.
Analyze and over think their throwing action.
Make physical changes to fix what they think is a mechanical problem.
Take in everyone's suggestions on how to improve.
Worry about making another bad throw, which leads to tension and over control.
Most of the time, your yippy feeling returns for a reason. Often, it starts with a bad throw or two.
You start to think: "Here we go again… throwing tense and controlled. I have a problem with my throwing."
This is your first mistake, not the bad throw.
This is when the problem solver in you wants to fix your throwing. But nothing is wrong with your throwing. The mind wants to over control your release.
Soon, this leads to over thinking and getting in your own way. Throwing is a natural motion that you learned years ago, no need to relearn your throwing motion.
How do you extend the length of the streak when you are throwing freely and simply?
First, don't assume something is WRONG after one or two bad or even marginal throws. It's okay to make a bad throw, everyone does. Blow it off and don't assume it's going to be a lost day on the diamond.
Second, do less, not more on the next attempt. This means less analysis, less judging, and less trying.
Third, make the task simple for yourself. Instead of NEEDING to make a perfect throw, think about a functional throw, especially for catchers. This means focusing on a bigger target—not the center of the glove.
What, did you say a bigger target? Yes!
You're thinking: If I focus on a small target, I'll my miss will be small, right?
WRONG! A tiny target leads to trying too hard and guiding. You want a big target to free up your arm to make the throw intuitively, which means letting go of guiding the throwing action.
Next time you have a two or three day stretch of no tension or yipping feeling, keep it going by not over thinking something is wrong or talking yourself into feeling yippy after one bad throw.
For more mental game strategies for overcoming throwing problems, check out "Breaking The Yips Cycle":
---
Overcome Throwing Problems: How to Break The Yips Cycle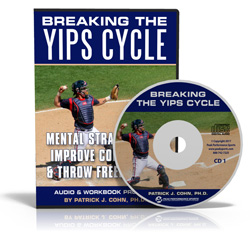 Do you (or a ball player) suffer from:
Anxiety, tension and over control of their action?
Performance anxiety about what others will think?
Super low confidence with the yips-infected mechanics?
Feeling like an alien has taken over your body and you have no control?
Inability to throw or pitch freely (despite the fact that you can in practice)?
If you can throw well when alone, but can't take it to games, this is a mental game issue and not a physical challenge!
The Yips Cycle is a vicious cycle that causes ball players to stay trapped in over thinking and over control…
Learn to throw or pitch freely again with my proven audio and workbook program:
Breaking The Yips Cycle: Mental Strategies to Improve Confidence & Throw Freely Again
"Breaking The Yips Cycle" is a complete brain dump of the TOP Eight mental training sessions I do with my personal coaching students to help them overcome the yips and play with freedom again.
The Audio and Workbook Program Includes:
Two CDs (CD purchase only). 120 minutes of mental training sessions to help you gain greater freedom, focus on the right performance cues, and simplify your prepitch routines.
MP3 Audio (Digital Download). 120 minutes of mental training sessions you can download to your computer right away while you wait for the CDs and workbook to arrive. (MP3 Audio value = $149).
An 8-Session Breaking The Yips Cycle Workbook to guide you through my mental game sessions and to overcome the throwing yips (Workbook value: $149.00).
Bonus Session: Practice drills to free up your throwing to help you improve consistency and stop focusing on mechanics when you play.
Learn more about Breaking The Yips Cycle…
---
Beat The Throwing Yips With Expert Mental Game Coaching!
Master mental game coach Dr. Patrick Cohn can help you overcome your mental game issues with personal coaching.
You can work with Dr. Patrick Cohn himself in Orlando, Florida or via Skype, FaceTime, or telephone. Call us toll free at 888-742-7225 or contact us for more information about the different coaching programs we offer!
What are our mental coaching students saying?
"After completing 'The Confident Athlete' series, I noticed a dramatic improvement in my level of play or should I say consistency. I play NCAA Division I baseball for Lamar University, and even my coaches have noticed a change in the way that I approach the game – my attitude and confidence at the plate. It has also helped me reach a new level of focus. I am able to get into that zone where I am able to narrow my focus on to the task. Thank you for helping in my continuing goal to mental toughness."
~Tylor Prudhomm
"After completing your program… he was more aware of the things that made him tight. He learned to control his breathing and control his emotions."
~Mark's Father
"Thank you so much for talking with our team. You are a great influence. The confidence material really helped me, and I will be working on that as long as I play and after. I can now step out there and just relax and play."
~Melissa Riesberg, Clarke College Softball
"Dr. Cohn has put together a program that has enabled myself and our players to approach the mental game in a systematic way that is easy to use and apply. Our awareness level has greatly increased."
~Marty Hunter, Head Baseball Coach, George Fox University