Does Jon Lester Have The Yips When Throwing to First?
On Tuesday's "High Heat," Christopher Russo suggests that Jon Lester's issue with the yips attempting a pickoff at first base is overblown.
Does he lose his grip on the ball or does he have the full blown throwing or pitching yips?
For five years no one noticed Lester having trouble throwing to first base while he was on the Red Sox.
On one of Lester's throws to first base he stated that,
"When you're not used to doing stuff like that, I just got a little overexcited and tried to throw the ball a little bit too soon."
With the times he has been traded not one coach has mentioned the yips to him nor has it interfered with multiple teams wanting to sign him.
Although he is a great pitcher he has had many walks and has trouble striking players out with his throws.
Some say this isn't a big deal while others are noticing that he does indeed have the throwing yips…

Subscribe
to the Peaksports YouTube channel now to receive updates on our new content!
---
Overcome Throwing Problems: How to Break The Yips Cycle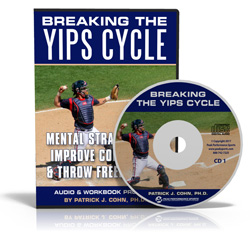 Do you (or a ball player) suffer from:
Super low confidence with the yips-infected mechanics?
Feeling like an alien has taken over your body and you have no control?
Inability to throw or pitch freely (despite the fact that you can in practice)?
Anxiety, tension and over control of their action?
Performance anxiety about what others will think?
If you can throw well when alone, but can't take it to games, this is a mental game issue and not a physical challenge!
The Yips Cycle is a vicious cycle that causes ball players to stay trapped in over thinking and over control…
Learn to throw or pitch freely again with my proven audio and workbook program:
Breaking The Yips Cycle: Mental Strategies to Improve Confidence & Throw Freely Again
"Breaking The Yips Cycle" is a complete brain dump of the TOP Eight mental training sessions I do with my personal coaching students to help them overcome the yips and play with freedom again.
The Audio and Workbook Program Includes:
Two CDs (CD purchase only). 120 minutes of mental training sessions to help you gain greater freedom, focus on the right performance cues, and simplify your prepitch routines.
MP3 Audio (Digital Download). 120 minutes of mental training sessions you can download to your computer right away while you wait for the CDs and workbook to arrive. (MP3 Audio value = $149).
An 8-Session Breaking The Yips Cycle Workbook to guide you through my mental game sessions and to overcome the throwing yips (Workbook value: $149.00).
Bonus Session: Practice drills to free up your throwing to help you improve consistency and stop focusing on mechanics when you play.
---
Download Our FREE Throwing Yips Report!
Do you throw accurately in practice, but lose control in games?
Learn how to over come the throwing yips!
Download our FREE Throwing Yips Report and learn how to break the yips cycle and throw freely and confidently again!
8 Mental Game Strategies to Break The Yips Cycle
What are ball players and coaches saying?
"Thank you so much for talking with our team. You are a great influence. The confidence material really helped me, and I will be working on that as long as I play and after. I can now step out there and just relax and play."
~Melissa Riesberg, Clarke College Softball
---
Beat The Throwing Yips: Mental Game Coaching With Dr. Cohn!
Master mental game coach Dr. Patrick Cohn can help you overcome your mental game issues with personal coaching.
You can work with Dr. Patrick Cohn himself in Orlando, Florida or via Skype, FaceTime, or telephone. Call us toll free at 888-742-7225 or contact us for more information about the different coaching programs we offer!
What are our mental coaching students saying?
"I wanted to say that your program is one of the contributing factors that has helped Michelle improve her hitting. Last week she had the most relaxed, confident games at bat ever! The mental exercises have started to make things click. The mental program is something she can practice in other facets of life. I am pleased that we decided to invest in your program: the results are showing."
~Jim Ellis, Michelle's father