"Learn How To Break The Yips Cycle
And Throw
Freely

&

Confidently

Again"
Mental Coach Reveals Secrets To Overcoming The Throwing Yips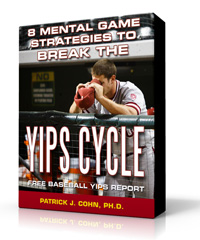 Do you throw accurately in practice, but lose control in games? Learn how to overcome the throwing yips! Download my free baseball yips report today and learn about:
Why the yips are mental and not physical.
How to identify when you have the throwing yips.
How the yips cycle keeps your stuck in bad throwing.
8 top mental strategies to break out of the yips cycle.
Download my FREE baseball yips report and unlock your throwing potential today! Please complete the form below to immediately download my FREE throwing report:

Beat Baseball Yips by Peak Performance Sports, LLC | Windermere, FL 34786-3188